Need functional prototypes and fully assembled sheet metal components fast? Unlike traditional sheet metal shops, we have infinite capacity and easy-to-use online quoting system ensuring on-time shipment every timeí¬whether you need a single part or 500 parts. At GTS
, our sheet metal fabrication service is designed for rapid prototyping, end-use production, and assemblies.
How Does Sheet Metal Fabrication Work?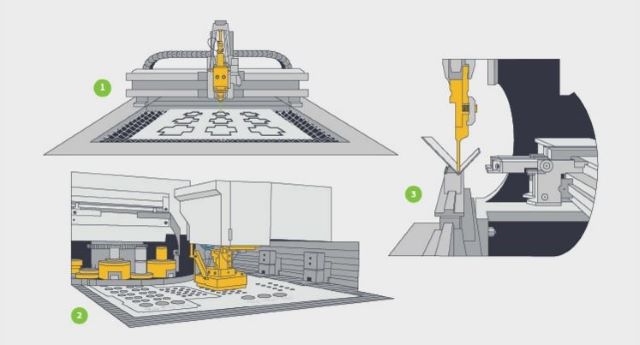 During the sheet metal fabrication process, thin sheet metal stock is placed on a flat bed where a laser cutter (1) draws programmed part patterns. Depending on the part geometry, a sheet metal punch (2) can form additional features. Once the parts are deburred, they move to the press brake (3) where they are formed into the final geometries. Additional secondary operations are often used to finish the sheet metal parts.